Holiday Inn St. Louis SW – Route 66; 10709 Watson
DESCRIPTION
Gateway to Reason is back this July 28th through 30th 2017! St. Louis premier secular conference is taking place in Sunset Hills in St. Louis County at the Holiday Inn and The [former] Viking Conference Center on Historic Route 66. Some new faces as well familiar faces will be back to share their views and expertise in many areas of humanism, comedy, education, atheism, activism, skeptic and other areas.
The three-day event will be loaded with something for everyone. This year also includes a board game playing area (bring your own games) and chance to take a helicopter tour of the city. The VIP will feature a comedy show plus a dance and will have many several for food, (think summer time outdoors)
There is planned to have around 25 speakers so check the website regularly. (gatewaytoreason.com)
Special ticket prices for students and group are available. sarah@gatewaytoreason.com for more details.
Many vendors will be there for you to get involved and items to display your level of activism and interests.
Speakers committed thus far: [More than 30 so far, about a dollar per speaker, what a bargain]
Mandisa Thomas, Nate Phelps, David Fitzgerald, Matt Dilahunty, Dana Fredsti, Rebecca Vitsmun, Alix Jules, Shelley Segal, Phil Ferguson, Karen Loethen, Steve and Tally Cass,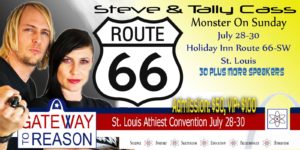 Keith Lowell Jensen, Dr. Margee Kerr, John Loftus, James Croft, Margaret Downey, From FFRF, Attorneys Rebecca Markert & Elizabeth Cavell, David McAfee, Stephanie Renee Guttormson, Steve Hill, Noelle George, Vyckie Garrison, Natalie Noble, Seth Andrews, Hypatia Alexandria, William Poire, Bro. Sam Singleton Atheist Evangelist, Emery Emery & Heather Henderson
Where: Holiday Inn St. Louis SW – Route 66; 10709 Watson Road, St. Louis, MO 63127
When: July 28-30
Cost: Early Bird tickets are $25 until April 1st, $50 until the day of the event, $60 at the door
VIP tickets $100
Combo room, VIP and ticket packages are available. See Eventbrite Gateway to Reason ticket page for details.
One person, $400, (A $470 value)
Combo room, 2 persons, $650. (A $720 value)
http://www.gatewaytoreason.com/lodging.html
Student tickets $15 with valid student ID.
Contact Sales and Communications Director, Sarah Myers at: Sarah@gatewaytoreason.com for group sales, vendor & sponsorship information